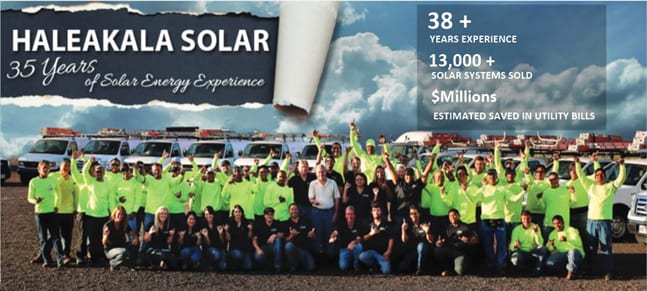 Challenge: New Requirements for Solar Installers in Maui
Haleakala Solar is one of the oldest solar installers in Hawaii, installing solar hot water and solar PV systems since 1977. Around 2010, the company was getting more demand for PV systems for condominiums and apartment complexes, under the stipulation that the installations met with newly enforced HOA and AOAO policies regarding aesthetics and protection. This included a mandate for skirting around the solar array to cover the panel framework for a cleaner look. With the number of installations increasing, Haleakala Solar needed to find a cost-effective, easy-to-install solution that would conform to HOA guidelines.
Situation: Attempting a Build-Your-Own Solution
When HOAs first started introducing new aesthetic guidelines, Haleakala Solar approached various vendors looking for a skirt solution that would conform to the new requirements. Unable to find a suitable product among their distributor contacts, the Haleakala Solar team opted to develop their own solution. While this company-made skirting met the requirements needed for approval, it was expensive to produce and time-consuming to install and overall, lowered Haleakala's solar operational capacity.
Solution: SolaTrim Product Installed & Meeting Every Need
Then the team at Haleakala Solar learned about SolaTrim. Tony Racanelli, SolaTrim's product representative in Hawaii, introduced the Wailea Community Association, one of Haleakala Solar's key customers, to SolaTrim ST-001. When the head engineer at Wailea asked Haleakala Solar to take a look at the product, they discovered that SolaTrim addressed all of their needs for a robust, cost-effective skirt.
By using SolaTrim, Haleakala Solar eliminated all the costs associated with manufacturing their own aesthetic skirting, and cut installation time from days to just a few hours. Most importantly, SolaTrim satisfied all the skirting requirements of HOA and AOAO customers, while saving money for their customers.
In addition, SolaTrim's protection will reduce service calls for Haleakala Solar, by eliminating the need to clean up after or repair damage caused by pests. Installers were initially concerned that the Hawaiian tropic winds would cause the SolaTrim panels to come loose and flap, but the sturdy design and the adhesive system has been tested for military-grade applications and is designed to last for the lifetime of the rooftop system, regardless of weather conditions.