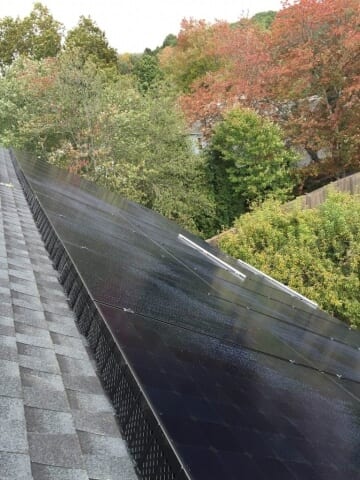 SACRAMENTO, Calif. (June 28, 2017) – Due to an increasing demand, SolaTrim LLC announced today that another barrier size option will be added to their product line. In addition to the original ST-001, SolaTrim is now offering the ST-055, similar in design, but with a 5.5" width – a full inch and a quarter narrower than the standard 6.75" wide ST-001.
"We've had increasing requests for a barrier size that could be readily applied to the solar array perimeter without trimming the barrier aluminum width to fit a uniform 5.5 inches. We are currently supplying a solar installer in Long Island who requested a high volume of this narrower size, and they have reported great success. We thought it only natural to add the ST-055 to our product line so other installers using similar racking and offsets could take advantage of this labor-saving convenience," said Bob Smith, President of SolaTrim LLC.
About SolaTrim
SolaTrim pest, debris and environmental protection barrier is manufactured in Northern California and all materials used in production are made in the USA. For more information about SolaTrim, go to www.solatrim.com or send your questions to info@solatrim.com.
SolaTrim LLC strives to provide residential solar integrators and consumers with an affordable, attractive and dependable product that will enhance, maintain and protect their renewable energy investment for decades to come. It is our goal at SolaTrim to continue to develop and manufacture Made in the USA solar Aftermarket and BOS products that will improve and support America's solar initiative.
Contact:
Bob Smith
SolaTrim
916.292.8699
bsmith@solatrim.com