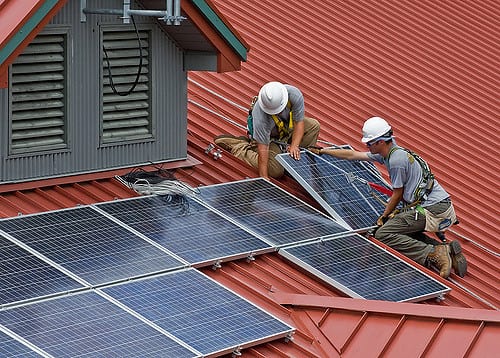 A few weeks ago we posted a blog about the new Canadian Electrical Code amendment outlining the need for protective barriers and proper wiring for rooftop solar systems. In that blog post we outlined the dangers of rodents nesting under rooftop solar systems and the associated costs to both the homeowner and the solar system integrator.
Last month, the Province of Ontario issued an Electrical Safety Code Bulletin, ESA 64-4-0,that lays out in specific terms the electrical code for proper installation of solar systems to ensure they are protected against damage from rodents and other pests. This bulletin offers a comprehensive definition of how to interpret the changes to the Canadian Electrical Code and is an excellent guide for solar installers in Canada and the United States.
One of our Canadian integrator contacts notes that the Ontario ESA Bulletin is the first clarification of the new electrical code, and it will serve as a guide for both installers and building inspectors:
"There has been some bouncing about as to how to exactly interpret "mechanical protection against rodents" but it seems to us (our opinion, anyway) that inspectors will see poor, good, and excellent solutions for this. Once they've seen a few examples in the field, the good/excellent solutions will become the de facto standard that they look for; not necessarily the standard product that they want to see, but the Standard of Protection."
Many of the installation standards outlined in the ESA Bulletin serve as best practices for any solar installation, such as making sure the cable combiner box is within 1 meter of the solar array and ensuring that all cables are properly supported. Proper cable support goes beyond straps placed at strategic intervals and may now include cladding and/or conduit previously not required.
For protection against rodents, adequate mechanical protection is to be employed, which could be expanded metal, solid metal, or screening. The protection has to allow for adequate airflow and any drilling into PV modules is not permitted.
To comply with the new code, some solar installers are using wire mesh systems with friction clips to connect them to the array without the need for drilling holes into the module frame. While this approach is compliant, it tends to be inadequate since the clips may fall off in time and need to be replaced. A more permanent solution is offered by the SolaTrim protective barrier system.
SolaTrim is fully compliant with ESA 64-4-0 right out of the box. The barriers themselves are made of lightweight aluminum poly-coated black for long-term wear and aesthetic appeal. They also are stamped with a diamond pattern to allow for adequate air flow. Installation is simple with a peel-and-stick adhesive that will affix to any module framework plus the adhesive has been tested to withstand extreme temperatures without weakening the bond – no clips or drilling required.
Since rooftop solar systems are under the terms of the new electrical installation standard, the inspectors are going to be the ones to determine what type of "rodent guard" passes inspection. The SolaTrim solution is easy, elegant, and aesthetic when installed so we are certain inspectors will recognize our solar system protective barriers as superior to the wire-cage alternatives. It's just one less concern when it comes time to call for Final Inspection and move toward Permission to Operate.